5 Things You Should Know About Spinal Reflex Therapy (SRT)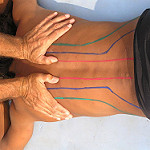 Spinal Reflex Therapy (SRT) is still a newly introduced modality that is being offered more and more among massage specialists, chiropractors, and as part of a doctor-prescribed treatment. All modalities offer stress or pain relief, but this particular one is best for those who've suffered an injury or suffer from chronic pain. Still not sure what this is? Let's explore five things you should know about this form treatment.
Unlike massage therapy, SRT is not massage at all. It is a treatment based on physiological principles. The axial spinal reflex is at the core of most nerve, joint and muscle dysfunction. SRT treats your body according to this principle.
According to novamedspa.com, "Spinal Reflex Therapy is based on the idea that the most common root cause of any bodily pain and dysfunction is Spondylogenic Reflex Syndrome (SRS).  SRS is, in a nutshell, a Spinal Reflex Therapist's explanation for your body's attempt to protect itself from trauma caused by stress, poor posture, unhealthy diet, injury, etc.  To further simplify, the ways that our body tries to shield itself from trauma can actually be causing our pain.
During your session, you will first be evaluated while fully clothed. The therapist will analyze your spine and the type of injury you should be treated for. If there are multiple injuries presenting themselves, your therapist will release the affected muscles in a particular order.
SRT is recommended for those who experience back or back-related pain due to soft tissue fibrosis, fatigue, muscle spasm, degenerative arthritis, pinched nerves, among many other.
After your session, you should feel immediate results. There should be less joint strain, less fatigue, and a lowered compensation pattern. As mentioned by klinechiropractic.com, "The key to the technique is that a reflex is always a reflex. It is consistent and predictable, just like when a doctor taps your knee with a hammer and your knee jerks. SRT is based on finding the specific reflex points near the spine that trigger the cascade of problems. When an Axial Spinal Reflex becomes chronic and produces chronic pain, it produces a pre-determined pattern of shortened muscle fibers within the core regions of the spine. That is what SRT addresses directly."
Make your appointment today with Brian Cooper, our specialist offering this unique modality, to learn more about what it can do for your joint and chronic pain, and how you can enjoy a life pain-free!