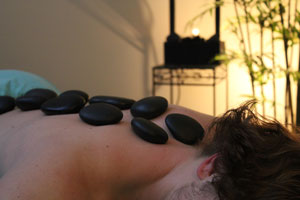 Hot Stone Massage is especially effective for people who need deep tissue therapy but do not like the feel of deep pressure work. The hot stones loosen the muscles and fascia with their penetrating heat and their gentle gliding pressure.
First we apply a set of volcanic stones, which are heated to the perfect temperature  to the muscles of the back. Then other warm stones are used to massage the arms and legs. After the back is completely warmed up it is massaged with more perfectly heated stones. Stones are also typically placed on key muscles as well as between the toes.
This is an extremely relaxing 90 minute massage.  Be prepared to melt away all of your stress. It is recommended to drink plenty of water before and after a hot stone massage. This type of deep muscle therapy is perfect for people who are more sensitive to deep tissue massage.
We also offer:
Himalayan Salt Stone Massage
Some Benefits of Himalayan Salt Stone Massage
Can promote healthy blood sugar
May help lower blood pressure
Supports a healthy respiratory system
Boosts bone health and helps alleviate muscle cramps
Improves circulation
Relieves anxiety
Lightly exfoliates the skin and is highly relaxing
Emits negative ions when heated, delivering a myriad of health benefits—from higher mental alertness to protection against germs in the air
In the massage our therapists use warmed Himalayan salt stones to apply pressure, using a variety of massage techniques. During the course of the treatment, the minerals are absorbed through the skin, Promoting a profound sense of well-being.
A Himalayan Salt Stone Massage can also help balance the body's electromagnetic field. Electronic devices such as phones and computers can disrupt natural energy flow within the body. The stone's neutral structure and natural resonant frequency help to clear energy pathways and restore balance to the system.
Relaxation/Therapeutic Massage
Hot Stone Massage
Himalayan Salt Hot Stone Massage
90 minutes – $160.00