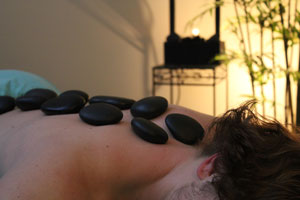 Hot Stone Massage is especially effective for people who need deep tissue therapy. The hot stones loosen the muscles and fascia with their penetrating heat and their gentle gliding pressure.
First we apply a set of volcanic stones, which are heated to the perfect temperature  to the muscles of the back. Then other warm stones are used to massage the arms and legs. After the back is completely warmed up it is massaged with more perfectly heated stones. Stones are also typically placed on key muscles as well as between the toes.
This is an extremely relaxing minimum 90 minute massage.  Be prepared to melt away all of your stress. It is recommended to drink plenty of water before and after a hot stone massage. This type of deep muscle therapy is perfect for people who are more sensitive to deep tissue massage.
Relaxation/Therapeutic Massage
90 minutes – $141.00