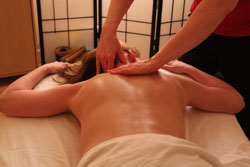 Here at Medical Massage Specialties it is our goal to provide a personalized massage therapy service to compliment your healthy, active lifestyle. We know every client is unique and we treat you that way. We setup a specialized plan just  for you, to achieve your goal, even if that goal is simply to relax.
Standard Pricing for our regular massage services are:
$88 for 60 minutes and $121 for 90 minutes.
Relaxation/Therapeutic Massage
Swedish Massage–  the most popular massage enhancing relaxation and diminishing everyday built up tension and stress. This massage can be rhythmic and  fluid utilizing long slow soft strokes to dull any headache or bad day away. Great to de-stress!
Signature Blended Deep Swedish Massage– If you've never experienced the healing hands of Brian Cooper, this is the place to start. Brian's Signature Massage is the feature here at Medical Massage Specialties. He combines a unique blend of massage techniques with his signature blend of doTERRA essential oils and his vast experience and skill with therapeutic massage. This 90-minute massage is truly 90 minutes that will help you to feel better whether you have sore or tight muscles or simply need to de-stress.
Deep Tissue Massage– similar to Swedish massage but uses deep pressure to release chronic muscle tension. The focus is on the deepest layer of the muscle tissue and fascia. Used to release knots in muscles and break up adhesion in fascia.
Medical Massage– or therapeutic massage, incorporates advanced massage modalities to restore function to the client. The pressure during this massage ranges from light to deep to release tension, relax muscles, increase blood and lymph circulation, and induce a restorative calming effect to restore any dysfunction within the body. Some techniques used are Active Release Therapy, Trigger Point Release Therapy, and Lymph Drainage.
Prenatal Massage– increases comfort and relieves those aches and pains. This massage prepares the body for delivery and postpartum recovery. We know Mom's to be need extra care so we have a Mom to be series special.
Sports Massage– specific massage techniques to increase sports performance and to aid in speedy recovery with the use of restorative massage modalities. This massage is used to  assess range of motion and alleviate delayed onset muscle soreness. This massage can be tailored to any sport and can be vigorous or relaxing depending on clients needs. This massage incorporates cleansing strokes, vibration, jostling and stretching to aid in the overall performance of the athlete.  The massage will be very different depending on whether it is pre-event, post-event, or during training.
Craniosacral Therapy–  a light-touch, whole body treatment technique which releases tensions deep within the body to improve overall function of the central nervous system and immune system enhancing your overall health and well-being.
Shiatsu Shin Tai– is a comprehensive bodywork treatment using elements of Shiatsu combined with Shin Tai, meaning 'Source Body.' It is designed to address both the physical and energy systems of the body in a subtle way to release the accumulated conditions caused by stress, trauma, surgery, and other discomfort. The nature of the work is intended to provide a broad spectrum increased quality of life by allowing increased flow of life force energy to promote self-healing capabilities. Shiatsu Shin Tai is a bodywork system that can give relief from various physical, emotional, or spiritual symptoms. Shiatsu Shin Tai expands on traditional Shiatsu bringing together both Eastern and Western concepts of healing to restore vitality, purpose, spiritual growth. *sessions are done fully clothed, please wear loose comfortable attire.

$85/session (approximately 1 hour)

Lymphatic Drainage– Manual lymphatic drainage (MLD) is a type of gentle massage which is intended to encourage the natural drainage of the lymph, which carries waste products away from the tissues back toward the heart.
Hot Stone Massage– is especially effective for people who need deep tissue therapy. The hot stones loosen the muscles and fascia with their penetrating heat and their gentle gliding pressure.First we apply a set of volcanic stones, which are heated to the perfect temperature to the muscles of the back. Then other warm stones are used to massage the arms and legs. After the back is completely warmed up it is massaged with more perfectly heated stones. Stones are also typically placed on key muscles as well as between the toes.This is an extremely relaxing minimum 90-minute massage.  Be prepared to melt away all of your stress. It is recommended to drink plenty of water before and after a hot stone massage. This type of deep muscle therapy is perfect for people who are more sensitive to deep tissue massage.
Couples Massage– is designed to meet a couple's massage needs at the same time. Couples can be in the same room to share the connection or have their own rooms. We recommend Swedish Massage for Couples.

60 minutes – $165.00
90 minutes – $220.00

Reflexology– massaging the feet, hands and ears through specific reflex points that connect pressure points to organs of the body.
Reiki– produces clear signs of reduced stress as indicated by changes in autonomic, biological measurements such as heart rate, respiration, and blood pressure. Reiki is energy healing that works holistically. That is, on the whole mind, body, and spirit. It is an ancient Japanese relaxing treatment where natural healing vibrations are transmitted through the hands of a Reiki practitioner to the recipient. The purpose of a Reiki session is to induce relaxation, to relieve pain and stress, release emotional blockages, balance energies, and support other medical modalities.
Aromatherapy

-We use only certified pure therapeutic grade essential oils from doTERRA.

BEMER – Bio-Electro-Magnetic-Energy-Regulation (BEMER) The BEMER system uses a low frequency pulsing field, which can deliver the life sustaining electro-magnetic energy to the body in an optimal way. This effect is of great significance. The positive effects of magnetic therapy have been known for decades and are the subject of numerous scientific works. The developing modern technology permits the use of magnetic energy on a broader basis, and it is becoming an essential contribution for improving the quality of life. BEMER sessions are great for stress reduction while remaining fully clothed in as little as 8 minutes.

$20/session (BEMER  sessions can be booked under Medical Spa Treatments)
* Bring in any competitors coupon and we will honor it. We will even let you keep the coupon because we know you will never want to go anywhere else once you have experienced Medical Massage Specialties.