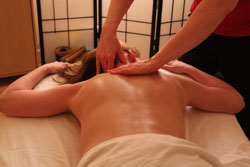 Here at Medical Massage Specialties it is our goal to provide a personalized massage therapy service to compliment your healthy, active lifestyle. We know every client is unique and we treat you that way. We have many massage styles and modalities to give you the exact massage you need. We will customize and blend your treatment to best fit your needs and expectations. Our massage sessions are for the full time listed. A 60 minute massage is really 60 minutes of massage, and a 90 minute massage is really 90 minutes of massage. Those extra minutes are very valuable to your body and to your wallet. Every five 60 minute massages is like getting one extra massage free compared to most other spas or clinics.
* First time clients bring in any competitors coupon and we will honor it. We will even let you keep the coupon because we know you will never want to go anywhere else once you have experienced Medical Massage Specialties.
Standard Pricing for our regular massage services are:
$60 for 30 minutes
$100 for 60 minutes
$140 for 90 minutes
$185 for 120 minutes
Regular Relaxation/Therapeutic Massage
Specialized massages with different price structures
John F Barnes Myofascial Release – The John F. Barnes' Myofascial Release Approach® is considered to be the ultimate therapy that is safe, gentle and consistently effective in producing results for people that have experienced trauma, inflammatory responses, and/or surgical procedures.
Couples Massage– is designed to meet a couple's massage needs at the same time. Couples can be in the same room to share the connection or have their own rooms. We recommend Swedish Massage for Couples.

60 minutes – $190.00
90 minutes – $260.00

Hot Stone Massage– is especially effective for people who need deep tissue therapy. The hot stones loosen the muscles and fascia with their penetrating heat and their gentle gliding pressure. First we apply a set of volcanic stones, which are heated to the perfect temperature to the muscles of the back. Then other warm stones are used to massage the arms and legs. After the back is completely warmed up it is massaged with more perfectly heated stones. Stones are also typically placed on key muscles such as the shoulders and neck as well as between the toes. This is an extremely relaxing minimum 90-minute massage.  Be prepared to melt away all of your stress. It is recommended to drink plenty of water before and after a hot stone massage. This type of deep muscle therapy is perfect for people who are more sensitive to deep tissue massage.
90 minutes $160.00
Bio-Electro-Magnetic-Energy-Regulation
BEMER – Bio-Electro-Magnetic-Energy-Regulation (BEMER) The BEMER system uses a low frequency pulsing field, which can deliver the life sustaining electro-magnetic energy to the body in an optimal way. This effect is of great significance. The positive effects of magnetic therapy have been known for decades and are the subject of numerous scientific works. The developing modern technology permits the use of magnetic energy on a broader basis, and it is becoming an essential contribution for improving the quality of life. BEMER sessions are great for stress reduction while remaining fully clothed in as little as 8 minutes.

$20/session (BEMER  sessions can be booked under Medical Spa Treatments)
Additional Info:
Buy nine sessions of  regular massage and receive a tenth session absolutely free.
Come in and see how we can be part of your overall wellness program.
Credit cards accepted.
Spa Week Gift Cards accepted for all regular price services.
Office Hours:
Monday thru Friday 9:00am – 7:00pm : Saturday 12:00 noon – 6:00pm.
Book Appointment Online or simply call to schedule:
Give us a call if you cannot find the time you need online.
office (703) 686-4092.