Make It Vegan This Thanksgiving!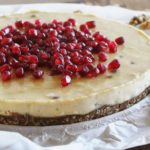 We love Thanksgiving, especially when we get to see our clients and thank them face-to-face for being the greatest clients ever! We also love to give them the gift of relaxation and ask you share it with everyone you know!
Understanding that many of our clientele are health, mind, and/or spirit conscious, we know there are plenty who are going to be celebrating Thanksgiving with family members who don't all share the same views on food (among many other things!) In saying this, there are many options for every type of diet may it be gluten-free, vegan, raw, etc., but none that are as beautifully presented and as delectable as this Cashew Citrus Cream Cake with Pomegranate!
Cashew Citrus Cream Cake With Pomegranate
(source: www.onegreenplanet.org)
*We do not own the rights to this
INGREDIENTS
 Crust
1 1/4 cups walnuts
1 1/4 cups raisins
Cream Cake
1 peeled orange
Juice from 1 lemon
2 cups cashews
1/4 cup coconut nectar
1/4 cup coconut oil
Pinch of Himalayan salt
1/2 teaspoon vanilla extract
Garnish
1 cup pomegranate seeds
PREPARATION
 Crust
Pulse the walnuts into powder in your food processor.
Add the raisins and pulse until it all begins to stick together.
Press into the bottom of a lined 9 inch spring form pan.
Put in the fridge.
Cream Cake
Blend all the ingredients until smooth.
Taste and adjusting accordingly.
Stir in a 1/2 cup of pomegranate seeds if you like, then pour onto your crust.
Refrigerate overnight, or even better, 48 hours.
Sprinkle with pomegranate seeds and serve!