Everything You Should Know About Thai Massage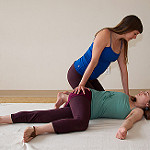 As you may know, there are many different types of massage, and each one serves a different purpose. There are those that are lighter and more maintenance focused like a Swedish Massage, and those that get deeper into the tissues to break down the toxins like a Deep Tissue Massage. There are massages focused on lymphatic drainage, and to assist a woman during pregnancy. If you have a certain, specific need, there's most definitely a massage for that! So, what is Thai massage, and what are the benefits?
Thai Massage combines acupressure, assisted yoga postures and ayurveda (a Sanskrit word meaning 'the wisdom of life" or "life-knowledge).  This form of massage is usually done on a padded mat; much different than other popular forms of massage. The therapists do not apply lotion or oil, nor do you have to undress.  Consider this type of massage if you're active; runners, hikers, bikers, swimmers all benefit greatly from this form of massage.
Fully clothed, expect the therapist to use her hands, knees, legs, and feet during the session. There will b applied muscle compression, joint mobilization, and the therapist will move your body in a series of yoga-like stretches. Acupressure is also involved.
Unlike other styles of massage, you will experience discomfort during the therapy time, however, afterwards you will feel invigorated, as though you've just completed a great workout! Let your therapist know when you are in pain, and lead the therapist if there is inappropriate pressure during the stretches. Muscle pain and knots will be targeted and you will feel discomfort, but if it is more than you can handle, certainly let her know. Your therapist works off your feedback, so communicating during your session is helpful.
What to know before you go:
Wear comfortable, loose clothing
Don't eat a heavy meal before the massage
If you're pregnant, check with your doctor before the massage
Massage should not be done on open wounds, bruises, recent fractures, hernia, or weak skin. If you have any of these, please vocalize this to your therapist
Be prepared to give your health history when making your appointment. People with certain conditions should not receive a Thai Massage
A typical Thai Massage lasts anywhere from one to two hours
Give us a call and set up your appointment by clicking here *https://medicalmassagespecialties.com/book-now/*
Our therapists are happy to answer any questions you have about Thai massage or any other massages we offer as well!