Five Ways to Take Advantage of Your Couples Massage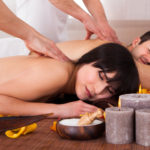 A couples-massage is a delightful way to celebrate a special occasion like an anniversary or Valentine's Day or can be part of your regular relaxation routine! Here are some tips to help you prepare for your appointment.
Choose the Right Day and Time!
Try not to schedule your massage on a day that you are already super busy or have other activities planned. A day that started with a cup of hot tea or coffee in bed, a peaceful nature walk, or reading in a comfortable chair helps you be in a relaxed mood before your massage. If a relaxed schedule is not possible, at least schedule your massage after the other activities you have planned.  No one wants to go grocery shopping or do yardwork after a peaceful massage.
Clean Up!
A massage therapist will be placing their hands on your body so do everyone a favor by making sure you head into your massage as clean and groomed as possible. Take a shower before you come to the spa or take advantage of spa amenities such as a shower or steam room. No need to wear makeup or fix your hair, massage oils on your face or scalp during a head and neck massage will mess up a perfectly coiffed hairdo or smudge makeup so save styling for afterwards.
Choose your Food Carefully
To fully enjoy your couples-massage experience, it is best not to indulge in a large meal or numerous drinks beforehand. It will be uncomfortable to lay on your abdomen for a back and leg massage when your stomach is bloated or full.  Avoid fried foods or heavy sauces at breakfast and lunch if you have a late afternoon massage. Too much caffeine can prevent you from fully relaxing during your massage. A salad and a glass of water with lemon is a perfect meal to help you feel fulfilled but not full during your spa experience. While a glass of wine or champagne is often part of a couples-massage package, do not overindulge since alcohol impairs the sensations of a massage.
Turn off your Gadgets!
A couples-massage is a time to fully unwind, relax, and bond with your partner. Stressful work emails, texts from friends, and cellphone games are not conducive to relaxing. Brightly lit screens activate the brain and distract you from focusing on the sensations of a massage. Try to power down devices several hours before your massage to fully awaken your senses to the experience.
Get Comfortable!
Particularly if this is your or your partner's first massage experience, it is good to know going in that your opinion and comfort is important to your massage therapist. Decide beforehand if you would like to keep undergarments on or if you are comfortable removing all clothing. This is a personal decision but know you will be properly draped with blankets the whole time. Think about if you would prefer a female or male massage therapist since most spas offer a choice. Also, once the massage has started, speak up if the pressure is too firm or too soft. Massage therapists want you to be relaxed and happy with the experience but will not know if something is not right if you do not speak up.
Hopefully these tips will help you to prepare and fully relax for an intimate couples-massage experience. Do not hesitate to call us and schedule yours today!