For Versatility, Many Swear by Lavender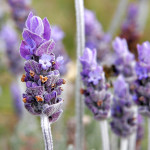 Essential oils are incredibly versatile, and lavender essential oil is no exception, according to many people. Not only does lavender smell great, it has the reputation of hosting a number of properties and household uses. Here are a few ways you might use lavender essential oils.
Dermatitis and eczema – If you mix a few drops of lavender oil with nut or vegetable oil, like coconut, sesame, etc. and apply it topically to the area of irritated skin, it may help with your eczema or dermatitis.
Circulation – Lavender oil may improve your blood's circulation and lower blood pressure. When your circulation increases, your organs are more oxygenated, your muscles are stronger and healthier, your brain activity is boosted and your body is better protected from the risk of heart attack.
Minor cuts and burns – Put lavender oil on a small cut. People swear by its ability to relieve pain and redness from minor burns.
Insect bites and stings – Drop a little lavender oil on a bite or sting and it may reduce itching and swelling.
Dry, chapped or sunburned skin and lips – Rub a few drops of oil on your skin if you're dry, chapped or sunburned to help alleviate flaking and discomfort.
Dandruff – Massage a few drops of oil into your scalp to help alleviate flaking from dandruff.
Insomnia – Lavender is known for its calming properties. You can inhale the scent from lavender oil to get this calming effect. Rub a few drops of the oil in your cupped hands and then inhale the scent deeply for several breaths. You can also rub it on your feet, temples and wrists for a calming effect throughout your body.
Respiratory benefits – Lavender oil is frequently added to vaporizers to help with coughing, croup and congestion associated with the common cold, asthma, flu, bronchitis and tonsillitis.
Bug repellant – This oil can repel moths and mosquitoes and is actually one of the primary ingredients in many commercial bug repellants. Some people use it to ward off lice, lice eggs and nits by rubbing it on their scalps.
Skincare – Because of its antiseptic and antifungal properties, lavender is frequently used for skincare, particularly to help people suffering from acne, psoriasis and other inflammatory skin conditions.
Lavender and many other essential oils have a myriad of uses, which is why they have become so popular. Like any other product, though, be judicious in using essential oils. Read instructions carefully, and consult a healthcare professional before use. Contact us for more information.
This article is for informational purposes only. The products and services described on this website are not intended to diagnose, treat, cure or prevent any disease. Please speak with a doctor before beginning any new health regimen.