Getting a Good Night's Sleep With Massage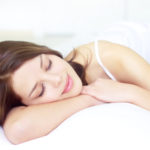 Tossing and turning, waking up multiple times during the night, or just taking forever to fall asleep seems to be the bane of many people's lives these days. Extra stress and a fast-paced life coupled with copious amounts of technological gadgets make it difficult for our bodies to turn off and fall to sleep to a natural rhythm.
09
As the saying goes, you can live without food or water for a period of time, but your body cannot live without sleep. Poor sleep does more than just make you tired and irritable. It messes with your immune system, your nervous system, your ability to concentrate, and your short-term memory.  You also tend  to eat more salty and sugary foods when you're tired, which isn't be good for your overall health.
It makes sense that massage can help you fall asleep. Often times, when we're working with a client, they do fall asleep! But did you know regular massage will also promote deeper, better, and a higher quality of sleep? Generally, an inability to sleep is caused by aches and pains, followed by stress and over-stimulation. Getting to the core of what is ailing you is your first step towards a good night's sleep.
Have you had a conversation recently with your massage therapist? Let them know what a day in your life looks like. Giving them a window into your daily life will help them understand whether your over-stressed, overstimulated, or both. Let them know where your pain is so that they can also determine if there is a level of chronic pain involved in your disconnected sleep. Therapeutic massage is a very effective pain reliever for many chronic pain conditions such as migraines, rheumatism; and improves psychiatric disorders, fibromyalgia, and alleviates issues related to cancer, breast disease, and heart disease.
A study on back pain, published in the International Journal of Neuroscience, demonstrated that in addition to a decrease in long-term pain, subjects receiving massage experienced improved sleep and an increase in serotonin levels.3 Results were based on twice-weekly, 30-minute massages for 5 weeks, using these techniques:
Kneading and pressing the back muscles
Massaging both sides of the spine and hips
Gliding rubs to the legs
Kneading and pressing the thighs
In the supine position, participants received:
Gliding strokes to the neck and abdomen
Kneading of the rectus and oblique muscles that help bend the trunk of the body forward
Rubbing of the legs
Kneading of the anterior thighs
Flexing of the thighs and knees
Gentle pulling on both legs
In addition to other assessments, a sleep scale to measure quality of sleep and urine samples to measure levels of serotonin were used in the study. (source: www.sleepreviewmag.com)
We've said it many times; massage is more than a luxurious treat for your body, it's a necessary component to your overall, long-term health. Boosting serotonin and improving your circadian rhythm will give you a natural, drug-free result you need to finally have a good night's sleep.