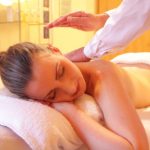 While the holiday season is a joyful time for many, it can also be a very difficult period of the year. A disconnect from how you actually feel vs. how you think you should feel due to the festive holiday season can be disconcerting. There are many reasons to feel "off" or out of sorts during the holidays. Gathering with family can be wonderful but can also bring up past hurts. The holidays fall at the end of the year where reflecting over accomplishments or old resolutions can make you feel lacking. The short days, long hours of darkness, and cold weather can all put a damper on your spirit.
Another reason that people may struggle during this time of year is Seasonal Affective Disorder, or SAD. This is also called winter depression and is fairly common. It tends to be triggered in the late fall, particularly around the time change. Many people with Seasonal Affective Disorder have symptoms such as moodiness and low energy that last well into the winter. A doctor can diagnose SAD and treat the disorder with medication, therapy, or light therapy. Alternatively, a patient could try lifestyle modifications such as spending more time outside in the sunlight, getting adequate exercise, and reducing stress with various techniques such as massage or yoga.
A popular and effective stress-reducing technique is massage therapy. Regular massage therapy can help the brain release endorphins, the naturally occurring "feel good" chemicals in the body. Endorphins promote happy feelings and positive energy. While generally considered an alternative therapy, many medical studies have shown massage to be beneficial. Don't feel guilty, massage is not simply a feel-good way to indulge or pamper yourself; it can help you feel better emotionally and physically. Massage has been linked to a reduction in cortisol, the stress hormone. High levels of cortisol contributes to chronic health issues in addition to seasonal depression. It may just feel like stress melts away during a massage but it actually does. Seasonal Affective Disorder can cause restless sleep and sluggishness but massage therapy can help restore alertness and promotes sleep.
While a massage is not a replacement for regular medical care, a patient with Seasonal Affective Disorder or milder winter blues can really benefit from massage treatment to help connect their mind and body with the positive spirit of the holiday season. You and your therapist can decide which type of massage would be best for you. Swedish massage is a gentle form of kneading and long strokes which promotes deep relaxation, while a deep tissue massage is slower and more forceful to help restore healing. Contact us today to set up an appointment!