Holiday Cookie Recipes Using Essential Oils!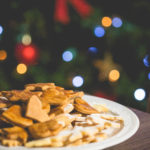 There's nothing like the smell of Christmas-a crackling fire, a freshly cut tree, and of course fresh baked cookies! Aromatherapy has long been noted for its ability to change your mood just with a whiff of an essential oil. What if we told you you could include essential oils in your holiday cookies, filling your home with the natural aroma of your wish? If you make any of these recipes tag us in your photo!
(*All recipes adapted from www.doterra.com)
Peppermint Essential Oil Hot Chocolate Cookies
Ingredients:
1 ¼ cup Butter
2 cups White Sugar
2 Eggs
2 tsp Vanilla
2 ½ cups Flour
1 cup Unsweetened Cocoa Powder
1 tsp Baking Soda
½ tsp Salt
5 drops Peppermint Essential Oil
1/3 cup Granulated Sugar
Directions:
Preheat oven to 350˚F
In large bowl cream butter and sugar until fluffy.  Add eggs and vanilla; mix well.  Sift together flour, cocoa, baking soda, and salt.  Add to creamed mixture and stir until entire mixture is an even dark brown.  Add Peppermint Essential Oil and stir until evenly blended.
Roll dough into balls about 1" in diameter.  Roll each ball in granulated sugar and place on parchment covered cookie sheet.  Cookies will spread during baking.  Bake for 8-10 mins or until tops have a crackle appearance.
Gluten-Free, Sugar-Free, Vegan Gingerbread Cookies
Ingredients:
1 1/3 cup buckwheat flour
2/3 cup tapioca flour
2/3 cup sorghum flour
1 tablespoon chia seed meal
1 tablespoon flax seed meal
1/3 cup of coconut palm sugar
1/2 teaspoon baking powder
1/2 teaspoon baking soda
1/4 teaspoon salt
1/2 teaspoon nutmeg
2 drops Cinnamon essential oil
2 drops Ginger essential oil
2 drops Clove essential oil
1/2 cup coconut oil
1/4 cup unsweetened applesauce
3 tablespoons water
3 tablespoons molasses
1 teaspoon apple cider vinegar
45 drops Liquid Stevia
Directions:
Preheat oven to 350 degrees Fahrenheit.
Combine dry ingredients in bowl and whisk.
Combine wet ingredients in bowl and mix until well combined.
Add essential oils.
Add dry ingredients to wet ingredients on slow speed until combined.
Put a small handful of buckwheat flour onto clean surface and place dough on top.
Roll until 1/4-1/2 inch thick.
Take cookie cutter and cut out shapes.
Place cutouts onto cookie sheet.
Bake for 12-15 minutes or until done. Remove from oven and let cool.
Top with icing if desired.
Ingredients:
2 cups pureed pumpkin
1 large egg
1/4 cup egg whites
1/2 cup milk of choice
3 tsp melted butter or coconut oil
1/3 cup brown sugar or honey
2 tablespoons vanilla extract
1/4 teaspoon ground nutmeg
2 drops Clove essential oil
2 drops Ginger essential oil
3 drops Cassia or Cinnamon essential oil
1 uncooked pie crust
*makes enough for 12 mini pies or 1 medium sized pie
Directions:
Preheat oven to 350 degrees Fahrenheit.
Take pie crust and cut out circles to fit inside greased muffin tin. *Don't roll the dough out too thin or else the pie will fall apart after its cooked.
In a blender or food processor, blend all ingredients until smooth.
Evenly divide the pie filling into pie crust.
Bake for 30-45 minutes or until crust lightly browns and when a toothpick inserted into the pies come out clean.
Let sit for 10 minutes, or until cool. Gently remove from pan and refrigerate.