The Importance of Post-Partum Massage
Giving birth is one of the single most dramatic changes your body goes through. Spending nine months providing your body nutrients along with enough nutrients and energy to grow another human being takes its toll on you regardless of age. Your body changes with pregnancy also, and not just with added weight. After giving birth, your hips widen, your breasts swell, and ligaments tend to become more relaxed. These changes along with hormone shifts in your body can cause post-partum pain. This pain added to the care of a new child can also lead to post-partum depression. The combination of these changes and the effects they have on your body should not be ignored.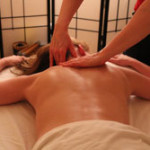 Just as there are prenatal massage methods, there are also post-partum massage methods. A woman can come in for a post-partum massage as soon as she wishes; although since veins in the legs do not return to their pre-pregnancy state for 6 to 8 weeks after birth, leg massages are not recommended.
If a woman had a Cesarean section, a Swedish massage will help facilitate recovery from this major surgery. This type of massage can also be conducted in the hospital if necessary. Our therapists take great care in focusing on the parts of the body that need the massage, and the parts of the body that just ache from having given birth such as engorged breasts and the incision area.
We don't just provide a massage to our new mothers; we listen to their story and provide a safe and secure environment for the mother to discover her new body, and to listen to what needs attention.  Some mothers will develop neck and upper back pain due to inappropriate sitting while nursing or from carrying a heavy infant car seat or stroller. Some other mothers may develop lower back pain due to long periods of time bent over to care for a child in their crib, the added weight putting pressure on their spine, or improper sleep position.
New mothers have pain issues that they are sometimes unaware of. Our therapists will draw out and pinpoint the pain triggers and use the appropriate methods to relieve pain may it be abdominal, pelvic, or any other type of pain.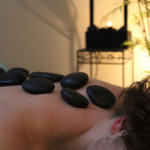 It's more important now than during your pregnancy to care for yourself. Massage isn't just an indulgence; it's a method to heal your body naturally in a calm setting. If you as a mother are calm, happy, and pain-free, it will only improve your focus when with your brand new child. Meet with us to talk to your therapist before giving birth to set up your post-partum appointment!