Make Massage a Part Of Your New Year's Resolution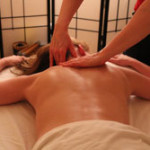 We are all guilty of it; right around now, we start creating our New Year's resolutions-what we will stop doing, what we will start doing, and what we hope to accomplish. For many however, before the confetti has been cleaned up, we've already broken a resolution or two.
Don't be too hard on yourself if that's been a part of your history in the past. It's not easy letting go of habits that have taken years to create, or to go against our own mindset of downplaying your own needs. Day-to-day stresses, stress at work, and general life issues compound your stress and whisk you away in a tide of life and before you know it those lofty ideas and plans you had on January 1st are long gone. But, not this year! Take the 'New Year, New You' mantra to heart, and put into motion a conscious effort to put your own mental and physical health first.
Say Yes!
Challenge yourself this year and be a yes kind of person; saying yes more gives you more flexibility and sends you on new journeys. You never know what will happen if you just say yes! Give it a try, and find something new to learn or do each month!
Say NO!
In saying yes, also learn how to say 'no'. Don't be afraid to be a little selfish and say no to those who want to take away your time or energy. If what is being asked of you is something you are interested in or wouldn't mind doing, of course, go ahead, but if it's something that will suck your time or energy, just say no.
Love Thy Self
When was the last time you told yourself I Love You? Have you ever said it before? It seems silly, but you can't fully love others if you don't fully love yourself. Look in the mirror each day and tell yourself you love you, and that you are proud of the person you are. Self-affirmation will give you the confidence you need to keep going even when you feel like you just won't make it anymore.
Relax
Stop.  Take a deep breath and relax for five minutes. Taking five minutes to unplug and relax at any point in the day will help set your body into a peaceful mode. Don't be afraid to take more relaxation time to tend to your body. A massage is more than a luxury; it's what you do for your body to keep your muscles, joints, and ligaments healthy to keep your spine in check, your joints from settling into arthritis, and to release harmful toxins that can cause a host of problems in the future.
If there's any resolution you should make this year, it should be one to yourself. Give yourself the gift of you; focus on you, love you, and take care of you. Doing this will help you achieve and maintain other goals in life and when you get to the end of 2016 you'll find keeping that resolution was a piece of cake.