How A Summertime Massage Can Benefit Your Health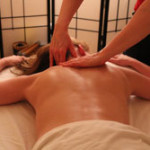 Can you believe it's already August? It seems like summertime has flown right by, and we're sure you're feeling the effects of it in one way or another. Either you've spent much of your time at the pool, and are nursing a burn, or have caught up with many of your outdoor chores and can feel it in your muscles and joints. Maintaining hydration can be difficult to do when you're running around with the kids out of school, which can in turn take its toll on your muscles.
Muscles and tissue require lots of fluids otherwise they will build up with lactic acid causing spasms or strains. A massage therapist knows how to work those knots that have built up in your muscles, and can give you tips on how to keep your muscles in tip-top shape!
Sore muscles aren't the only issue during the hot months. Stress in hot weather can manifest in tension headaches, which will result in poor sleeping habits. If you don't sleep well, you're more susceptible to poor eating habits. The butterfly effect can cause lifetime issues.  The right massage will ease the tension headaches, providing you with a good night's sleep and a firmer ability to say no to sugary drinks and sweets.  Thinking clearly and being more alert by reducing fatigue will lessen your stress as well.
In the summertime we feel more sluggish, hence the 'lazy days of summer' theme; a lot of this is due to swelling in our legs, and a general back up in our lymphatic system. A good lymphatic drainage will keep you from feeling sluggish and tired.
Make your appointment at your convenience, either online or over the phone, however, if you come in, we can share with you some of our favorite essential oils; we use them during your massage, and have many great tips on how to best use essential oils for an organic approach to summer healthcare for you and your family!
If you can't make your appointment in person, come in a few minutes before your appointment to select your favorite essential oils, and to learn more about how to use them during the last weeks of summer!