Most Common Back Pain Causes and Prevention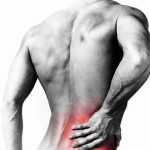 Dad gives his all doesn't he? Where moms are there for us emotionally in a lot of ways, dad's tend to take on the physical support of the family. This kind of support starts to manifest in their bodies, causing major back pain that radiates throughout the body and facilitating a multitude of other issues. Here is a list of the most common back pain causes, and what we recommend you do to prevent the injury before it happens.
Offender: Long Periods of Sitting
We've become a very static group of people, haven't we? Whereas we once spent most of our days in constant movement, today's world requires us to sit. A lot. Discs are spongy and cushion the vertebrae in your spine, but discs have poor blood supply. Movement allows fluid to circulate through the discs. When you sit still, fluid can't get to where it needs to go, leading to stress in your back.
Prevention: Move
Get up and move at least every 20 minutes if you work at a desk. Avoid sitting and leaning forward to keep your pelvis from locking and your spine from flexing, putting pressure on the front of your vertebrae. Choose a chair that supports your back, and avoid putting heavy items like keys or a wallet in your back pocket.
Offender: Going Zero To Hundred
We all think we're still capable of doing the same things we did when we were young, but it's the day, or two days after when we realize with stiff bodies and sore muscles, we're just not that young anymore.
Prevention: Exercise
You can't go from sedentary to playing a day's worth of basketball without a few sore muscles. The only way to prevent this is to consistently exercise. Slow and steady is the best approach to spurts of action.
Offender: Ignoring Lifting Technique
Many times we think it's ok to lift bend from the hips to pick things up or put them down, but that's one of the most sure-fire ways to injure yourself. Improper bending will result in back injury, and the ways to prevent it couldn't be simpler.
Prevention; Proper Posture
Bend with your knees, not with your waste, keep objects close to you, and never hold an item higher than your armpit or lower than your knees.
If Dad is already sore, schedule a massage before Father's Day! Make him feel special! Give us a call to choose one of our specials for Father's Day and give Dad time to pamper himself!