Osteoarthritis: Noted Symptoms and How Massage Therapy Can Help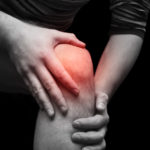 Osteoarthritis is defined by joint stiffness, pain and tenderness in any area. There is usually a loss in mobility due to swelling in the tissue surrounding the joints. The pain can be a dull aching or a sharp shooting pain when in movement. These symptoms are most common in knees, hips, and joints in the hands. Many have found the pain to also be located in the lower back.
Although one would think a body in motion would help relieve the pain, in actuality, physical activity could make it worse. Stiffness will generally follow after long periods of sleeping or sitting, and subside after stretching. Osteoarthritis can get so bad for some that it interrupts their sleep and impairs their ability to perform daily activities such as bathing or dressing.
Doctors require a collection of different examinations to determine the presence of osteoarthritis. Doctors may also look into medical histories of the patient and their families as well. Once it has been determined, it's important that the patient (i.e. you) take good care of yourself to keep from having an 'episode'. So, what can you to do help relieve the pain?
How Massage Therapy Can Help
The benefits of massage therapy are well known yet not very well documented. Per massage.elitecme.com, the benefits of massage therapy for osteoarthritis patients include:
Increased blood circulation
Reduced swelling and improved flexibility through the increased blood flow.
Relief from pain and muscular tension by providing stimulus that blocks pain signals from being sent to the brain.
Enhanced overall relaxation and sense of wellness which could be the result of a shift from the sympathetic nervous system which responds to stress, and to parasympathetic nervous system, which helps slow down breathing and stabilizes heart rate, dilates the blood vessels, and improves the digestive system.
Stimulation of chemical release such serotonin and endorphins.
Improvements in sleep which also helps with pain management and healing.
Production of beneficial biochemical changes such as the prevention of fibrosis and increased lymph flow, which is part of the immune system.
If you suffer from osteoarthritis, talk to your massage therapist about the best method to relieve your pain. You may also consider a combination such as aromatherapy and hot stone massage as part of your regimen.
No one wants to live their lives in pain. Let us help you relieve and reduce the pain, and help you feel like yourself again.