Practitioner Spotlight: Jenna DeVore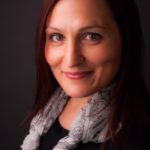 Jenna is one of our newer practitioners and has brought with her a unique and special focus on overall health. She achieved certification in Neuromuscular Massage Therapy by the International Academy of Neuromuscular Therapy while completing her core massage therapy at The Colorado Institute of Massage Therapy. Although she specializes in many Western-based practices, she is also our formative Shiatsu Shin Tai practitioner. Learn more about Jenna here!
You're new to the MMS family, welcome! Tell us a little about your background.
I'm originally from Pennsylvania and moved here one and a half years ago as a military move through my husband. Although we've lived in many places, we knew we wanted to land here in the end. While we lived in Colorado, I did extensive training in Western practices, mostly engaging in neuromuscular massage. I've had the great opportunity to expand my experience from many different types of modalities and enjoy linking Western and Eastern philosophies to one another. That's very important to me.
How long have you been a Shiatsu Shin Tai practioner?
I have studied and practiced this modality for one and a half years.  Before this, I concentrated more on Western-based practices such as neuromuscular massage.
What attracted you to the practice of Shiatsu Shin Tai?
I had heard of it, and thought it was very intriguing, so I took a class and really connected with it immediately. I saw how transformative and effective it is and decided I would get as much training in it as possible.
Could you give us an overview of what Shiatsu Shin Tai is?
Shiatsu Shin Tai is based on the Shiatsu principle. Shiatsu uses pressure, stretching and structural manipulations that balance out energy, or chi. Shin Tai was created over 35 years ago by practitioner Saul Goodman in Pennsylvania as a way to redirect energy and stimulate life flow. It's hard to explain to those who've never tried it, but the experience is truly unlike any other!
What other modalities do you specialize in?
Aside from Neuromuscular massage and Shiatsu Shin Tai-Swedish, Deep Tissue/Myofascial, Sports Massage, Lymphatic Drainage, Hot Stone and DoTERRA AromaTouch.
If someone has never had bodywork before, do you suggest they go in for a Shiatsu Shin Tai first?
Yes, because it may not be what they think of when they think of a traditional massage and is a good introduction to the practice of massage or bodywork-induced health.Shin Tai is great for people who have had massage and/or still get massage that want the benefits of Shin Tai. It is also great for people who have never had massage. Especially good for those people who may not be comfortable with traditional massage, because it is done wearing loose comfortable clothing and the techniques are applied in a way that unlike massage does not have the gliding movements across the body. Shin Tai is designed so that it encourages the persons own body to facilitate the most of the effects. So it may feel less invasive for those who are not comfortable with traditional massage. During that time, we can talk about any other ailments they may have, or other concerns, and set up a time for them to come in and have other bodywork done.
Set up your appointment with Jenna and experience what it's like to have a Shiatsu Shin Tai bodywork!