Top Five Essential Oils for Spring Cleaning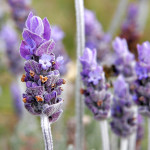 Essential oils have many uses in personal care and aromatherapy but also make excellent cleaning products, especially during spring cleaning. Common household cleaners contain many toxic chemicals which are bad for the environment and can harm your health. Many people using regular household cleaners may suffer eye and respiratory irritation from the strong chemical smell with infants, small children, and pets particularly effected.
Essential oils can be used alone and in combination with other natural products to make excellent cleaning solutions without the environmental impact, unpleasant scent or negative health consequences. Essential oils smell wonderful, but many varieties also have potent antimicrobial effects, therefore making them effective household cleansers.
Many household cleansers have chemicals added to give them scents like "citrus fresh" or "fresh linen", why not use essential oils that naturally smell great?
Lemon: 
Lemon is a common scent added to dish soap, dust polish and other household cleaners due to its uplifting, fresh smell. Lemon essential oil provides this citrusy aroma but also naturally contains antimicrobial and antiseptic properties. Add it to a gallon of water to mop floors or as an additive to homemade laundry detergent as a stain remover.
Lavender:
Lavender is a pleasant scent that is often added chemically to laundry detergents and fabric softener. Natural lavender essential oil can be added to a homemade laundry detergent for a fresh, comforting scent. Combine a few drops of lavender essential oil with distilled white vinegar to make a cleaning spray for the bathroom or kitchen.
3.Tea Tree Oil:
This essential oil is made from the Austrailian Melaleuca tree and has antiseptic, antibacterial, and antifungal properties. Tea Tree Oil has a medicinal smell and is a great additive to homemade sprays for cleaning the bathroom, particularly the bathtub and shower tile. Two teaspoons of Tea Tree Oil can be mixed with two cups of water in a spray bottle and then sprayed as a cleaner in the bathroom. Tea Tree Oil is especially effective at getting rid of mold and mildew as well as reducing musty smells.
Peppermint Oil:
Although peppermint oil may make one think of the holiday season, peppermint actually contains strong antibacterial properties and is a great additive to homemade cleaners. Peppermint is also a natural pest deterrent.
Pine:
Many commercial cleaners have a strong pine scent but are actually filled with chemicals. Pine smells clean and is also a natural disinfectant and deodorizer. Clean floors by mixing 5-10 drops of pine oil and a quarter cup of white vinegar into a bucket of water.
Switching to essential oils from common household cleaners is easy, healthy, and green!