Treating Carpal Tunnel Syndrome With Massage Therapy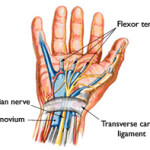 If your job consists of a lot of typing, you've most likely experienced the effects of carpal tunnel syndrome; numbness or tingling in your wrists or hands, even pain in the wrist. This pain can get worse over time, and many are subjected to surgery to relieve the issue. If your job relies on your hands, this can become more costly than a hospital visit; time away from work and rehabilitation can cost you your job, a decrease in revenue, and much more.
What is Carpal Tunnel Syndrome?
According to the Mayo Clinic, carpal tunnel syndrome is a hand and arm condition that causes numbness, tingling and other symptoms. Carpal tunnel syndrome is caused by a pinched nerve in your wrist. A number of factors can contribute to carpal tunnel syndrome,
including the anatomy of your wrist, certain underlying health problems and possibly patterns of hand use. Bound by bones and ligaments, the carpal tunnel is a narrow passageway located on the palm side of your wrist. This tunnel protects a main nerve to your hand and the nine tendons that bend your fingers. Compression of the nerve produces the numbness, tingling and, eventually, hand weakness that characterize carpal tunnel syndrome (mayoclinic.com).
Pregnancy, thyroid problems, obesity, menopause, diabetes, and rheumatoid arthritis among other factors can cause carpal tunnel as well.
How to Treat Carpal Tunnel Syndrome
Researchers have discovered that people with pain from carpal tunnel benefit greatly from hot stone therapy. Hot stones expand blood vessels as well as encourage blood flow not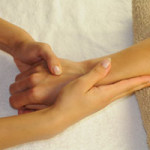 only in the hands but throughout the entire body. This type of therapy is also beneficial to those suffering from arthritis and fibromyalgia.
Chances are if you're suffering from carpal tunnel syndrome, there are other parts of your body that are out of sync as well. Deep tissue massage and orthopedic massage techniques like myofascial release works well too. Using these detailed medical massage modalities releases tension and trigger points in the shoulder, full arm, and hand..
Discuss with your therapist how long you've been experiencing pain and whether you have shoulder, back, and neck pain as well. Chances are these are all connected and need to be collectively healed to reduce or remove the carpal tunnel pain. You will see relief after the first session; however, it may take up to six sessions to find complete relief. Your therapist will discuss with you the best mode of therapy.