Worst Ailments and Best Essential Oils for Spring Allergies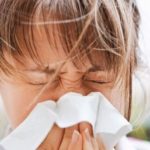 Spring in most every other part of the country starts in April, however for us in the Northern Virginia area, we usually begin spring in early March (although February certainly made it seem as though spring was already here!) While the temperatures vary, the bright cherry trees, beautiful azaleas and tulips (not to mention the copious amounts of foliage among us), means nasal congestion, headaches, fogginess, and much more. As much as you want to take that long walk outside, your allergies are telling you it's probably a no-go.
No one wants to overmedicate themselves on a variety of over the counter or prescription medications. Did you know that essential oils can help relieve your allergy symptoms too? Here are some helpful ways you can use essential oils for the worst side effects of allergies.
Headaches: Everyone is familiar with that terrible allergy-related headache. The pressure can sometimes make it difficult to get through the day. Try lavender, marjoram and/or peppermint. Diffuse the scents, add them to a steamer, or rub a few drops in your hands and inhale. You can also use a rolling ball vial and apply to the temples and forehead.
Hay Fever and Allergy Symptoms: Hay fever and allergies can sometimes be exacerbated by congestion in the liver and lymph. Essential oils that detoxify are your best line of defense. Cypress, helichrysum B. juniper, lemon and orange either blended together or on their own will help with headaches, nasal congestion and mental fogginess too.
Nasal Congestion and Stuffiness: Although the above mentioned essential oils can also help with nasal congestion, there are a few others that act as antihistamine. Try cypress, peppermint, eucalyptus, rosemary, and Douglas fir.
Any of these essential oils can be used together or singularly and work well as part of scrubs, massage oils or added to diffusers. If you're planning to come in for a massage, ask us for a special seasonal allergy blend to help open up your passage ways and give you some relief.