Celebrate the Holidays with the Gift of Massage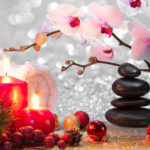 Finding the right gift for your loved ones can be difficult sometimes. You want it to be thoughtful, and unique, which isn't easy to do in this age of consumption. Think about how nice it would be to be gifted a massage? Wouldn't you appreciate it? If so, you're on the right track to the perfect gift! Pampering is one of the most sought after gifts, and a massage is the ultimate pampering option!
We have a host of specials for the month of December, for new members, and for those who are up for a challenge! We have so many, in fact, that we had to put them all in our blog for you! If you're not already following us on Facebook or getting our newsletters, sign up today to get these in your mailbox or feed before everyone else! The offers last so long as the supply does, so don't wait until the last minute! Check off your list with some of the ideas below!
Discounted Gift Certificates
From Nov 1-Dec 24, all gift certificates will be 20% off! Use promo code MERRY2017GC20
New Client Special
Refer a friend to book for the first time at MMS and they can receive a 90 minute massage for the price of a 60 minute massage, a savings of 35%.
Use promo code 90for60 when booking!
Military and Service Member Discount
Now is a great time to honor those who serve our community and our country. Active/Retired Military Personnel, Law Enforcement, Firefighters, and EMTs receive 20% off any massage service, discount will be applied at checkout!
DoTerra
All DoTERRA orders pre-paid and placed through our office will be 15% off plus free shipping when picked up at the office.
Deep Blue Essential Oil
Receive a special discount when you add Deep Blue Essential Oil to your massage!
Aside from our great offers and specials we also have a couple events for you to enjoy with us, or to challenge yourself to! We support you and are thankful for our current, past, and future clients!
Client Appreciation Party
Join us on Dec 6 from 4-8pm for a client appreciation party with fun, specials, and celebration!
Raise the Bar Challenge
All 6 week challengers will receive a special discount. Call us for details!
Feel free to give us a call to learn more about all of the specials, coupons, gift certificates, or to schedule your own massage! Don't forget to pamper yourself too! 'Tis the season for giving, so give yourself a break!