Aromatouch Massage: What you Should Know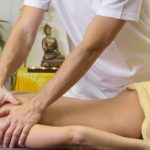 AromaTouch Technique is a clinical massage method involving essential oils being applied along energy meridians and visceral contact points of the back and feet to help balance sympathetic and parasympathetic nervous systems of the body.
This method was developed by Dr. David Hill, a leading expert in integrative medicine and the therapeutic applications of essential oils. The AromaTouch Technique improves wellbeing by reducing physical and emotional stressors while supporting healthy autonomic function. This technique is simple and uses eight different essential oils and essential oil blends designed to support balance and restoration of healthy emotional and physiological functions.
The oils used in the AromaTouch Technique are
1.       Rosewood/Spruce Blend:
An essential oil blend promoting calmness and well-being.
2.       Tea Tree:
A powerful essential oil with cleansing and immune system boosting properties.
3.       Lavender:
This relaxing, familiar scent has soothing properties that calm the mind and spirit. Lavender is an  immune system boost and also relieves nervous tension while increasing blood circulation.
4.       Cinnamon/Eucalyptus Blend:
An essential oil blend with cleansing properties that revitalizes essential bodily fucntions.
5.       Peppermint:
Amazing health benefits, immune system boost, and uplifting scent. Peppermint oil stimulates the mind and eliminates headaches.
6.       Wintergreen/Camphor Blend:
An immediate tingling and warming feeling, added to AromaTouch massage
7.       Wild Orange:
An energizing, citrusy aroma that reenergizes and revitalizes the body.
8.       Basil/Grapefruit Blend
A calming and relaxing blend used for its soothing properties.
These eight oils are combined with specialty massage techniques to deliver amazing benefits to the body. These oils are applied to the back and the feet using various massage techniques. When receiving a massage, you will lie on your abdomen so that your therapist can work on your head, neck, back, and feet, along with some hand techniques. Each massage session runs from 40 minutes to one hour. Let your therapist know before your session begins if you have any sensitivities to one or more of the essential oils or blends so they can eliminate that one from the massage. Like with any massage, communicate any medical conditions or concerns as well as your comfort level to your massage therapist during your massage session. Your therapist wants you to be comfortable and relaxed so it is important to communicate your needs with them.