Types of Massage: Which Is Right for You?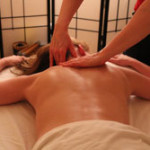 With so many different varieties of massage out there, how will you ever choose one when you're in our offices? Maybe you're a runner training for a marathon and you've been waking up with terrible leg cramps. Or perhaps you're 8 months pregnant and need to unwind and get some relief from terrible lower back pain. No matter what your situation, we can custom tailor your massage to your body. Learn more about each type of massage we offer and its benefits so you can decide which one might be right for your next visit.
Sports massage – If you're an athlete (or you just like to hit the gym a few days a week), a sports massage might be for you. It's designed to help physically active people prevent (or address) injuries and prepare for peak athletic performance. Sports massage can help improve your circulation and drain lymphatic fluids while stretching your muscle tissue and breaking down your scar tissue. This type of massage can also reduce your pain and help you relax your muscles, all while subduing any anxiety you might have. Your therapist will concentrate on areas of your body that are frequently used in your sport.
Swedish massage – This is one of the most common types of massage. If you're new to massage therapy, this is a good type of massage to begin with. If you just need help with general stress relief, relaxation and cramped or tense muscles, look no further than this massage. It's also great for couple's massage. A Swedish massage will combine long, sweeping strokes, muscle kneading, friction and sometimes rhythmic tapping.
Deep tissue massage – While not for the faint of heart, this massage therapy can work wonders for athletes who go particularly hard on their bodies, people who need to break down scar tissue (well after the injury is properly healed) or people with very dense tissue. Deep tissue massage includes pressure on trouble areas that you will discuss with your massage therapist. Your therapist will use his or her knuckles and elbows to apply pressure to problem areas. You may be a bit sore in the days following a deep tissue massage.
Prenatal massage – Designed for pregnant women, prenatal massage can help reduce your stress and improve your overall wellness, which is good for both you and your growing baby. As your body grows and changes during pregnancy, your back muscles are more strained. You can also have swollen legs and feet. Prenatal massage can help with improved circulation, reduced swelling (also known as edema), headaches, fatigue and leg cramps. During this massage, you can be positioned on your side using soft cushions to make sure you don't have any extra strain on your lower back or pelvis during the massage.
Hot stone massage – In this type of massage, your massage therapist will use hot, smooth stones to weigh down your body and massage your muscles. The heat from the stones not only feels great, but helps release muscle tension, especially in your back and shoulders. This massage is best for relaxation, centering yourself and for people with very tense muscles.
As you can see, we offer a variety of ways for you to take care of yourself. Call us today at 686-4092 or 973-800-5194, or visit our website.
This article is for informational purposes only. The products and services described on this website are not intended to diagnose, treat, cure or prevent any disease. Please speak with a doctor before beginning any new health regimen.