What Reflexology Can Do for You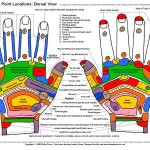 When you think "reflexology," what comes to mind? Some kind of strange college course? Feet? Something else? Well, we're here to help you understand the whats, whys and hows of reflexology. After, you can make an informed decision on whether or not a reflexology massage is right for you.
What is Reflexology?
Reflexology is a type of massage rooted in Chinese Medicine. In Traditional Chinese Medicine the body has five longitudinal zones on each side of the meridian line of the body, which run from the tips of the fingers, through the brain, to the tips of the toes. These reflex zones contain the internal organs and glands of that section. Reflexologists believe that an illness can be a result of an energy blockage in the system; for example a blockage in the respiratory system could result in the symptoms of the common cold. Reflexology is very similar to acupuncture or acupressure; however the points do not always coincide with the same points.
What happens during a reflexology massage?
In reflexology massage, we use these reflex zones and apply pressure to the feet, hands and ears. No lotions or oils are used in this type of massage. The massage therapist applies pressure in thumb and finger walking patterns. This massage is relaxing and a good way to alleviate stress. Because reflexology operates on the assumption that points on the hands, feet and ears correspond to all other places in the body, we stimulate only those areas of the body to help with other health issues.
What are the medical implications?
According to the Mayo Clinic, studies funded by the National Cancer Institute and National Institutes of Health indicate that reflexology may reduce psychological symptoms, such as anxiety and depression, reduce pain and enhance relaxation and sleep. These studies also show that reflexology may have benefits in the palliative care of people with cancer.
There are several medical conditions which may make you unable to get (or have to prolong getting) reflexology massage. You should probably avoid a reflexology massage if you have any type of open wound on your feet or hands. If you have burns or gout, you should also limit your use of reflexology. If you've recently had a surgical procedure to your hands or feet, like removal of a cancerous tumor or wart, you should avoid reflexology until you have fully healed. There is some evidence that rubbing of the feet during pregnancy can stimulate contractions, so unless you are full-term, you want to avoid reflexology. If you have active blood clots you should also avoid reflexology.
Who might benefit from reflexology massage? Reflexology may be a useful complementary treatment for neuropathy, or numbness, of the legs, toes and feet. It can also be helpful after a long workout, like running or taking a long walk. If you suffer from stress, anxiety or sleeplessness, reflexology may be beneficial for you. If you don't have any underlying medical conditions, but you're just looking for a great way to unwind after a long day at work, we can help with that too.
Ready to book your next appointment with us? We offer reflexology massage, as well as many other styles of massage. Call us at 703-686-4092, or visit our website.
This article is for informational purposes only. The products and services described on this website are not intended to diagnose, treat, cure or prevent any disease. Please speak with a doctor before beginning any new health regimen.