Best Essential Oils For Camping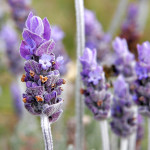 The weather is hopefully going to begin agreeing with us, and the sun will be out on a more consistent basis now. In saying that, it's the perfect time of the year to go camping! The days are getting longer, and it's still cool enough to enjoy a campfire, yet warm enough to sleep outside comfortably. We are so fortunate here in Northern Virginia to have a ton of campground options, with the most beautiful scenery in the country.
With camping comes a host of issues such as bug bites, bee stings, and allergic reactions. Be prepared for all that nature throws your way with a natural safeguard that will make your camping experience pleasurable. Essential oils are easy to carry, safe for kids and pets, and, with the right blend, can care for a plethora of issues. Here is a list of the essential oils we recommend you pack for your next camping trip!
Peppermint:
Peppermint is a great deterrent for deer (which is why it's good to plant catmint in the front yard). Peppermint is also great for upset stomachs and headaches. Make a paste from peppermint essential oil and baking soda for a natural toothpaste that freshens breath too!
Lavender:
No one is immune to an accidental burn from cooked food over an open flame. Help ease the pain with lavender essential oil. While you're at it, use lavender to deepen your relaxed state as you lay staring at the stars! Lavender is also a great anti-bacterial agent.
Melaleuca;
No trip is complete without this anti-fungal powerhouse. Use Melaleuca (also known as Tea Tree Oil) as a disinfectant, or to soothe and clean cuts and/or abrasions.
Frankincense:
Aside from the amazing scent of frankincense, you can use this essential oil to help ease the pain from injuries and inflammation. Use frankincense together with lavender for a truly relaxing bedtime blend as well.
Lemon:
Long known as a great disinfectant, lemon is a great companion to your essential oils to reduce stress, freshen your mornings, and of course to cleanse just about anything!
We have many essential oils and blends here for you to sample and to choose from. Ask us about the blends we carry, and our own signature blends to take with you on your next trip!