Best Massages for a Tension Headache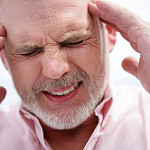 Tension headaches are the most common type of headache among adults. Commonly referred to as stress headaches, they can occur periodically but can also be experienced chronically by some sufferers.
Tension headaches are typically felt as a dull pain, pressure, or tightness around your forehead or the back of your head and neck. They can last for just 30 minutes or linger for up to a few days. Tension headaches typically come on gradually, often in the middle of the day. Up to 80% of adults get tension headaches every now and then and women are twice as likely to suffer from them then men. In addition to pain, tension headaches can cause irritability, muscle aches, mild sensitivity to light or noise, and fatigue.
Tension headaches can be treated with over the counter pain relievers like acetaminophen or ibuprofen, but these medications may give a headache sufferer less relief over time and also has side effects. Medication also will not treat the underlying causes of tension headaches, which is typically poorly managed stress.
The American Massage Therapy Association considers regular massage therapy to be a great treatment and prevention medication for tension headaches. A 2002 study by National Institute of Health showed a significant decrease in headache frequency and intensity among sufferers who had received ten one hour targeted neck and shoulder massages.
The decrease in headache frequency was still in effect up to six months after the initial massage therapy for many of the research study participants. Massage has been proven to reduce muscle tension, relieve feelings of stress and anxiety, and decrease perception of pain, making it a beneficial therapy for headache sufferers. Individuals who suffer from chronic headaches may find significant relief with regular massage therapy since the factors causing their headaches are being treated by massage therapy.
A popular muscle group to target with massage is the subocciptals, which are the muscles under the back of the skull. This group of muscles supports your head, which is no easy task considering the weight of the human skull. These muscles are workaholics and targeting them with massage is a great tension reliever. This area of the body is considered a "trigger point" and massage in this zone will induce deep feelings of relaxation with a sedative effect.
Massaging the muscles in this area is also effective towards relieving pain and tension carried in the shoulders, back and hips. Additionally, these muscles at the back of the neck are involved in eye movements and eye strain or light disturbances caused by tension headaches can be treated with massage of this area.
Our massage therapists can help you find relief, give us a call to get on your way to relieving headache pain!