Eating Before or After a Massage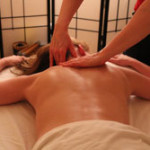 Nearly any massage you get relaxes your body and releases toxins through your system. In doing this, it's normal to feel a little light-headed or sick to your stomach after a particularly good session. Massage draws blood to your extremities making it difficult to gain optimum digestion.
A question we get often is, what foods should you eat before a massage, how soon after can you eat, and what foods are best for post-massage? Well, when it comes to eating before, try to eat a few hours prior. After a massage, you'll want to wait about 30 minutes. Of course, don't starve yourself as this may contribute to the dizzy or light headed feeling during the massage. One to two hours beforehand will allow for proper digestion. Stick to foods that are low in fat and carbs. Feeling bloated before your massage will make for an unpleasant experience!
A salad is always great!  Stay away from heavy carbs, greasy fries or meats, and make sure you're constantly loading up on water. Being dehydrated will also lead to a sick to your stomach feeling post-massage. While you're at it, you'll want to watch your alcohol intake as well. Alcohol thins the blood, giving you that light-headed, euphoric feeling; couple that with a massage and you'll feel lethargic and possibly get sick as well.
Here's a great post-massage recipe:
Mediterranean Chicken Chopped Salad with Creamy Feta Dill Dressing
(found on www.fromvalerieskitchen.com)
Ingredients
 Olive oil
2 boneless, skinless chicken breasts
1 teaspoon oregano
1 teaspoon garlic pepper
Salt, to taste
1/2 fresh lemon, juiced
1 small head romaine lettuce
1 (15 ounce) can garbanzo beans, rinsed and drained
2 cups peeled, chopped English cucumber
1 carton cherry tomatoes (red, yellow, or mixed), halved
1/2 cup diced red onion
1/2 cup pitted, chopped kalamata olives
1/2 cup chopped peperoncini
For the Creamy Feta Dill Dressing
3/4 cup non-fat plain Greek yogurt
1/3 cup buttermilk
1/4 cup crumbled feta cheese
2 tablespoons chopped fresh dill
1/2 fresh lemon, juiced
Zest from 1/2 lemon
2 teaspoons white wine vinegar
1/2 teaspoon minced garlic
Salt and fresh ground pepper, to taste
Instructions
Mix all ingredients for the dressing together in a small mixing bowl until well combined. Cover and refrigerate until ready to serve.
Slice your chicken breasts through the middle, length-wise. Coat the bottom of a skillet with olive oil and place over medium-high heat. Add the thin sliced chicken. Season chicken with 1/2 teaspoon oregano, 1/2 teaspoon garlic pepper, and a touch of salt as it cooks. Allow to cook for about 3 or 4 minutes then flip and season other side. When chicken is thoroughly cooked and no longer pink in center, remove the pan from the heat and squeeze the juice from 1/2 lemon over the chicken. Set aside.
Chop, rinse and drain the romaine and add to a large serving bowl. Add the remaining salad ingredients.
Transfer cooked and slightly cooled chicken to a cutting board and chop into small bite-sized pieces. Top salad with the chicken and toss well to combine.
Serve with Creamy Feta Dill Dressing