Essential Oils for Springtime Bugs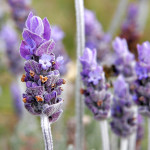 Spring is a beautiful time of year, isn't it? The flowers and trees are great to look at, and walking out of the house without a coat is a wonderful convenience. The unfortunate side effect to all this beauty however, is the multitude of ants, spiders, and any other creepy crawly you can think of, invading your home, or killing off your prized plants. Using essential oils to rid your home or the perimeter of your home of these pesky bugs is both non-toxic to your children and pets, and a natural deterrent as well.
Lavender:
Lavender may be a relaxing essential oil, but did you know it's also effective at battling bugs>? Moths, ants and other insects are repelled by the smell of lavender; use it in a spray, or leave lavender sachets in cupboards or drawers.
Basil:
Basil isn't just good for allergies, its also great as a mosquito replant and dust mites! Add some to an atomizer and spray on as a natural mosquito repellent, or add to a roller to help relieve dust mite allergies.
Pine:
You may recognize pine used in many commercial bug repellents, but that fake scent used alongside dangerous pesticides is not enough to keep you and your family naturally bug free. Use pine essential oil as a natural bug repellent, and enjoy the scent as well!
Vetiver:
Vetiver is used in many exotic scented products; colognes, candles, and lotions, but did you know natural vetiver essential oil repels mosquitoes? Diffuse a few drops to repel mosquitoes in and around your home!
Peppermint:
Who doesn't love the smell of peppermint? Peppermint is a natural insecticide that kills and repels mosquitoes, flies, and bugs. Diffuse it, or add to a spray; place a few drops in a roller bottle, and keep those bugs away for good.
Melaleuca:
There isn't much this wonder essential oil can't do. Better known as Tea Tree oil, you can use it for fleas, leeches, lice and ticks, and also beat irritation from bites and stings.
Eucalyptus:
Eucalyptus essential oil works much like peppermint essential oil does by repelling flies, mosquitoes and general bugs. Use it to also soothe your body from bug bites as well.
When you schedule your next massage, ask us for our favorite, or most highly recommended essential oils and blends that we use to repel bugs. We want you to enjoy the rest of spring and summer bug free! Ask us about our essential oils, and we'll also share some of our best tips on using these essential oils to promote well being as well!