Lemon Essential Oils — Sour Fruit, Sweet Benefits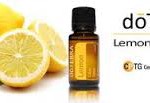 Essential oils have grown increasingly popular, with lemon oil in particular becoming a favorite. Whether you use lemon essential oil in aromatherapy, clean with it, add it to food or water or apply it topically, you can reap all the natural benefits this oil offers. Here are 13 ways lemon essential oil can help you:
Kill germs around your house – Lemon is naturally anti-bacterial. You can use lemon essential oil combined with tea tree oil and water to make a cleaning solution.
Support your immune system and promote weight loss – Lemon oil can help you rid yourself of a cold faster by supporting lymphatic drainage if you mix it with coconut oil and rub it on your neck. Lemon aids in digestion and can help support your metabolism, possibly aiding with weight loss. Add a few drops to your water three times a day to support your metabolism.
Clean your skin – Adding a few drops of oil to your hand soap will help you get the grime off your hands after you work on your car. Mix it with baking soda and honey for a natural acne treatment. Lemon is astringent and can help detoxify your skin and leave it soft and supple.
Relieve your stress – Using lemon oil for aromatherapy can help calm you down. It can also help with dizziness, exhaustion and mental fatigue.
Eliminate bad odors – If you ever forget your laundry in the wash for a few hours and come back to that sour smell, you can use this essential oil to combat it. You can use it in a diffuser as a room refresher and in addition to just smelling nice, it can also help you feel more mentally alert and be more productive.
Treat your hair – Add a few drops to your shampoo to combat dandruff and strengthen and add shine to your hair. If you have greasy hair, this will help cut down on your natural oil overproduction.
Clean your silver, leather and wood – Use lemon oil as a silver or wood polish and leave your home sparkling without all the harmful chemicals of commercial cleaners.
Settle your stomach – Smelling or ingesting this oil can help with nausea, especially morning sickness. Consuming lemon oil can help with upset stomach, indigestion and stomach cramps.
Clean up sticky messes – If your kids leave stickers all over your coffee table (again), don't fret. You can use a few drops of lemon oil to remove gooey messes like adhesive residue, tree sap and gum.
Whiten your teeth – Mix lemon oil with baking soda and coconut oil and apply the paste to your teeth. Leave it for two minutes and skip the harsh commercial whitening strips.
Sleep better – Rubbing a few drops to your temples or applying to your pillowcase, alone or with lavender oil, can help you catch some extra z's.
Breathe better – The aroma of lemons can help open your sinus passages and promote better airflow.
Medical Massage Specialties uses essential oils as part of the massage experience. For more information on lemon and other essential oils, contact us today.