Massage and The Sleep Connection
We hear it on the news and read it in magazines almost on a daily basis: a good night's sleep will help you resolve many of your health issues. Adversely, a bad sleeping habit will bring upon a host of health habits, and cause weight gain as well. Of course, there are many pills and medications that will help you sleep, but have you seen the side effects? Talk to your doctor and see if he or she would put you on a massage therapy regimen before seeking out prescription medication. Why? Let's go over some of the benefits:
According to the Mayo Clinic, studies have shown that massage reduces insomnia-related stress as well as anxiety, headaches, digestive disorders, and many other issues related to a lack of sleep. Those who are chronically sleep-deprived have a reduced ability to perform basic tasks and become at risk of work or automobile related accidents; the reason being elevated levels of the stress hormone, cortisol. Cortisol is about 50% higher in people who sleep six hours or less at night. These increased levels of cortisol are connected to problems with blood sugar, depression, and high levels of abdominal fat.
Massage reduces stress which makes a person more likely to experience a restful sleep. The body is in a euphoric state, the body's cortisol levels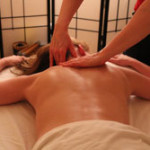 go down, and is able to reach a deeper level of REM. Massage also increases serotonin which increases melatonin and helps the circadian rhythms to reset in those who fall asleep at random times (and are still having trouble waking up).
When a person's body is in tune, it follows a healthy pattern. The type of massage is unimportant; any type of massage that helps you relax should be utilized to achieve a healthy night's sleep. When you come to Medical Massage Specialties, our therapist will discuss with you the issues you have, your daily life, your stresses, and help you decide which type of massage is best for you. It's important to identify physically your stressors, and what effect they have on your mental state.
Talk to your physician before stopping any sleep-aid medications, and discuss with them your choice to take a more holistic approach. Your overall health is important to us, and a step towards a more restful night's sleep will help your body heal in a multitude of ways. Contact us to learn more, and to give the gift of healing as well. Now through Christmas Eve, we are offering 30% off a gift certificate. Reach us on our webpage, or stop by, we'd love to see you!